Home Charities Freemasonry Lodge History Joining Calendar
Sutton Masonic Hall
9 Grove Road, Sutton, Surrey, SM1 1BB
Sutton Masonic Hall was founded in 1897 and has been in use as a Masonic meeting place since then, except for two short periods during the Great and Second World Wars when it was requisitioned by the authorities for public service.
Currently about 50 Masonic Lodges, including Copthorne Lodge, from the nearby area use Sutton Masonic Hall for their meetings. Sutton Masonic Hall is used by some 45 other Masonic orders and is available for wedding buffets and private meetings. It is one of 14 Masonic Halls in the Province of Surrey, serving over 300 individual Lodges.
Sutton Masonic Hall is located at the heart of Sutton in Surrey (U.K.), and is a two minute walk from Sutton Rail station.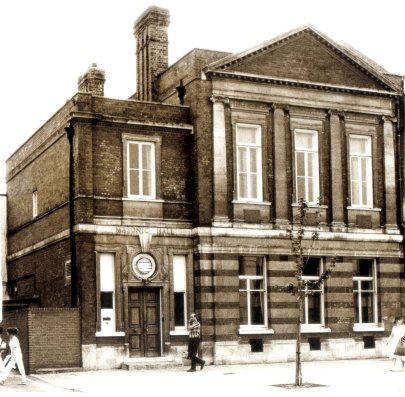 Sutton Masonic Hall, 9 Grove Road (circa 1970)
The photograph above shows the Hall in about 1970. During the 1980s a bar and extra dining room were added to extend the existing facilities of two Masonic Temples and a main dining room.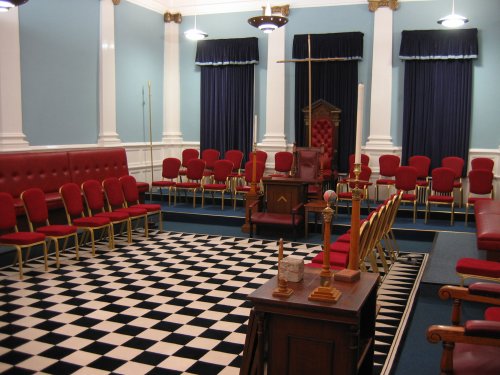 Sutton Masonic Hall - Large Temple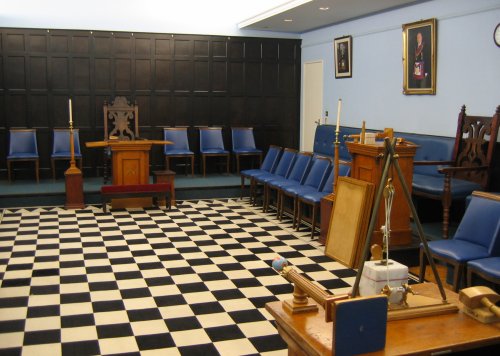 Sutton Masonic Hall - Small Temple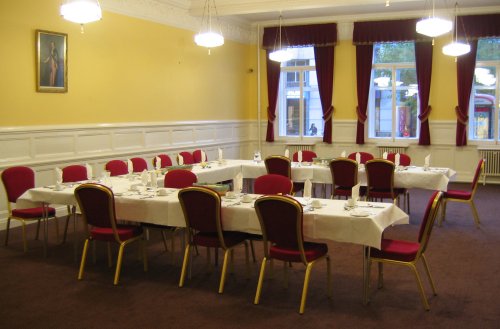 Sutton Masonic Hall - Dining Room
Sutton Masonic Hall - Dedication Plate to the Founders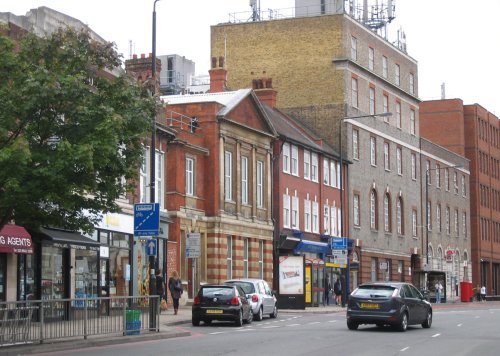 Sutton Masonic Hall in Grove Road, 2010
Here is some historical information and images. Images marked with a '*' are provided courtesy of the Sutton Local Studies & Archives Centre based in Sutton Library, with thanks.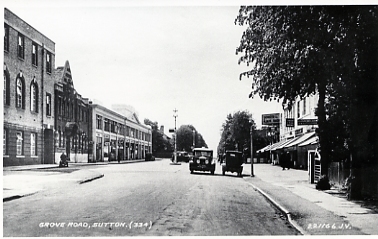 Grove Road, Sutton (c. 1920?)*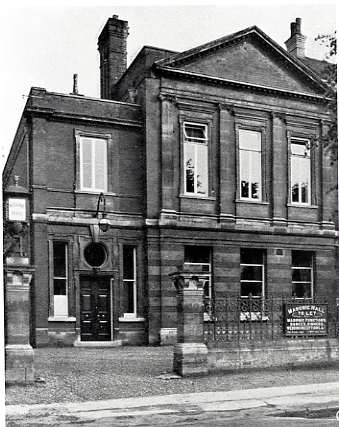 Sutton Masonic Hall (c. 1931)*, note the railings later removed as part of the war effort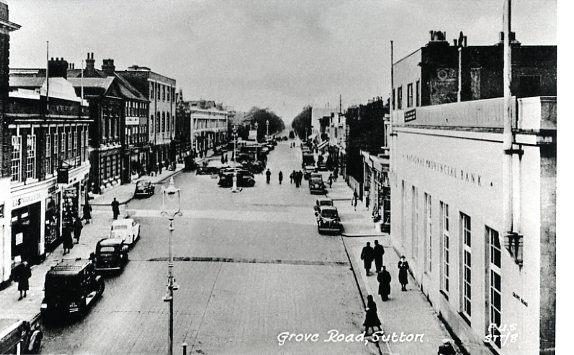 Grove Road, Sutton, showing Masonic Hall (c. 1950?)*
Sutton Masonic Hall currently only serves Masonic activities; prior to WWII, it was also available for a range of private social functions, as indicated in these adverts taken from Sutton trade directories: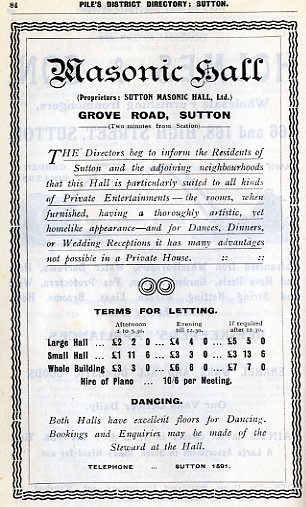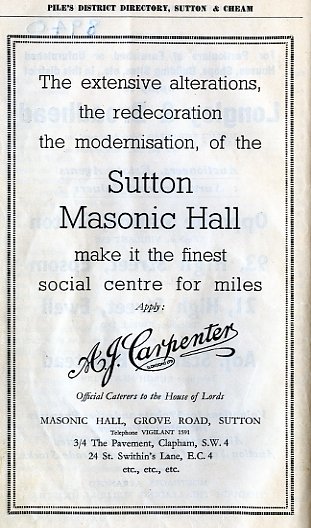 Adverts for hire of Sutton Masonic Halls (1924/25, left; 1938, right)*


Provincial Grand Lodge
of Surrey
Some 50 Masonic Lodges from the local area use Sutton Masonic Hall for their meetings
There are 14 Masonic Halls in Surrey, serving over 300 individual Lodges
Sutton Masonic Hall was founded in 1897. It is close to Sutton Rail station